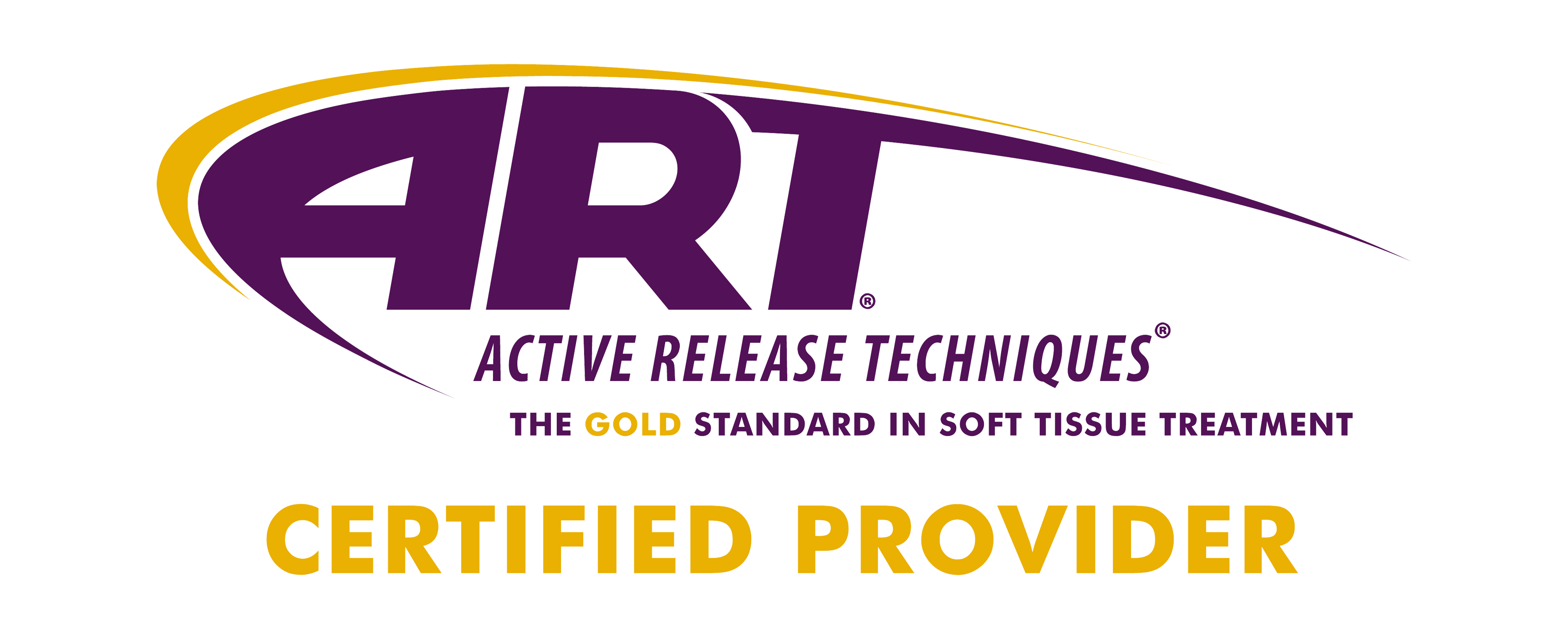 ART Therapy: What It Is and Why You Need It
Many Levels of Relief
With its tailored approach, the Active Release Technique provides many benefits like:
1. Restored glide between soft tissue: releasing scar tissue from the places it binds together allows your soft tissue to glide across instead of pulling!
2. Increased and restored flexibility: Once the adhesions have been released, joints will be able to bend and flex in ways they haven't in a long time.
3. Better range in motion: Not only can you be more flexible in specific movements, but your overall range of motion may be improved in all directions.
4. Less pain: Adhesions pull on tissue and nerves that should glide across one another, rather than stick together. Once the adhesions are released and the glide is restored, the pain caused will lessen, and possibly disappear altogether.
5. Overall better performance: Whether you're an athlete or a desk jockey, the ART therapy can help you move better and feel less pain, making your overall quality of life better. That can have a major impact on how you work and play!
ART practitioners undergo a high level of training and are required to maintain certification with continuing education. Stephen Leamon, DC is certified in ART therapy in order to incorporate the best care for his patients. He is committed to providing the highest level of service in order to increase health, reduce pain, and provide a better quality of life for everyone we serve.
Any time you injure yourself, there is a potential to develop scar tissue. This is most evident on your skin: cuts and wounds slowly close, scab, and then heal, leaving a visible scar behind.
But it also happens inside your body, as well. Joint and soft tissue injuries like frozen shoulder or nerve entrapments, cumulative trauma disorders (CTD) such as carpal tunnel, and surgeries can all leave scar tissue called adhesions inside your body. If you think about skin scarring, you might think that adhesions can't hurt too much.  But there is a big difference between the scarring on the outside of your skin and scarring under the fascia.
Internal adhesions can bind things together: Muscles, tendons and ligaments may be bound to a nerve or joint too tightly, reducing flexibility; scars from surgical sites can bind to surrounding soft tissue, limiting movement.
Massage therapy may help the tension in the muscles but doesn't address the adhesion connections. Traditional physical therapy can only help these areas so much by stretching and strengthening the tissues.  But since the real problem is scarring, the solution is not more PT or massage, but Active Release Technique.
Active Release Technique (ART) Therapy Restores the "Glide"
Active Release Technique (ART) has become very popular amongst professional athletes for their rehabilitation of injury, now and as a result of its success, the general public is seeking this treatment out as well. It is becoming the most sought after treatment for soft tissue injury.
ART therapy is a patented therapeutic system that works to release the binding caused by adhesions between soft tissue. There are specific sets of protocols and patient movements used, depending on location of the injury and the specific soft tissue that has been affected.
The motions and protocols used for the hands, wrists, and arms with carpal tunnel will be different from the system to treat knee damage from regular running! Everybody is different. What works for one body type may not work for another. So, it takes a practitioner who is certified in ART therapy to design the custom treatment for each patient.
Regardless of which protocol you need, ART will be able to help restore your range of motion and relieve the adhesion pain you experience, restoring the glide between the affected tissues.                  
If you would like additional information, we invite you to attend our Dinner With the Doc event. Just call the office at (916) 434-6464 to RSVP for this free class.
See What Our Happy Patients Are Saying!
Dr. Stephen Leaman is an Expert in advanced spinal correction. He quickly helps you to achieve great structural and neurological balance. You'll feel like the energizer bunny! Highly recommended.
Dr. Leamon took time, on his day off, to speak with my husband over the phone about my husband's back problems. Dr. Leamon was understanding, very informative. We were very impressed. We have dealt with many many doctors over the last several years in an effort to remedy my husband's health challenges, and believe we can learn a lot about the doctor's manner and competence with our first visit or conversation. We had an immediate good feeling about Dr. Leamon and the care he extends to his patients.
I have known Stephen both as a friend and a Chiropractor and he is as good as they come, I have seen several Chiropractors and they are not all the same. I highly recommend Dr.  LEAMON!
Voted Best of the Best Chiropractor